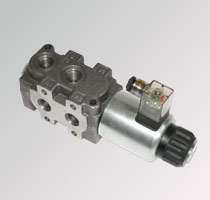 Download detailed description in PDF file
Technical parameters
Ambient temperature -40C...+95C
Hydraulic liquid -mineral oil based/hydraulic oil
Fluid temperature -20C...+70C
Nominal flow 90 l/min
Max operating pressure 280 bar
Viscosity 10-400 mm2/s
Filtration 18/14 acc. to ISO4406
Supply voltage , V 12;24 DC
Power , W 65
Switching frequency, 1/h 15 000
Duty cycle 100%
Spool leakage-100bar and 25mm2/s viscosity 2.0 cm3/min

Description
SVV Selector valve has been designed to meet the demand of progressive machine manufacturers for versatile, cost effective, reliable circuit selector.The valve body is produced by cast iron EN-GJL300 alloy and it is machined using high precision, advanced,contemporary techniques.The advanced design of the valve spool ensures that fast spool switching can take place under any conditions without the use of a separate drain line.

Construction
SVV Selector valve stackable 6 port/2way change over valves are designed to be used when extra circuits are to be operated from one control lever on machines such as fork lift trucks, agricultural front end loader,telescopic handlers, and in transmission circuits.SVV can be stacked up to 3 valves allowing for the diverting of flow 2,3 or 4 directions depending on the combination chosen.

Mounting
The distributor is fixed with two bolts M8. SVV valve bank can be optionally equipped with a housing, containing relief valve, on the outlet end of the valve, protecting the motor or cylinder operated by the B ports against excessive pressure.