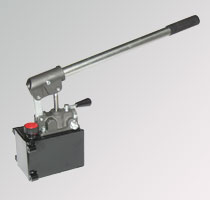 Download detailed description in PDF file
Technical parameters
Ambient temperature -40C...+60C
Hydraulic liquid -mineral oil based/hydraulic oil
Working volume (cm3) 12/25/45 cm3
Rated pressure (bar) 320, bar
Weight (kg) 4,2/4.0 kg

Description
Manual pumps are designed to create head flow of hydraulic oil, usually for activation of a hydraulic cylinder. They can be double acting for single and double acting cilinder.

Construction
The pumps consist of a body made of cast iron EN-GJL300 and a piston made of carburized steel with chrome plating.

Mounting
The pumps are fixed to a tank according to the installation openings of each pump.